At GDC (Game Developers Conference) 2016 held in San Francisco this year, MIRAISENS announced their new two-hand sensory feedback game controller "M-ORB (provisional name)" which utilizes their unique, patented 3DHaptics Technology.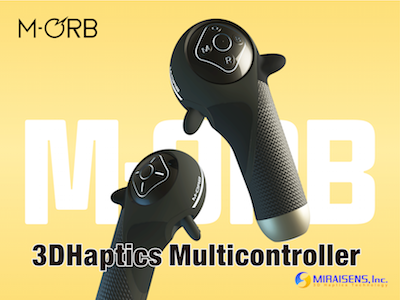 By gripping this new game controller optimized for AR/VR in both hands, users are able to realistically experience a variety of movements and tactile sensations through their fingertips.

This technology provides a realistic gaming experience, unlike any other, such as being shaken left, right, up and down in action games or feeling the powerful recoil of the gun in shooting games.

Of course, other controllers in the past have been equipped with vibration functionality. However, these simple vibrations are far from actual, realistic sensations.

MIRAISENS' 3DHaptics Technology allows gamers to experience realistic movement sensations unlike ever before!

Last year, MIRAISENS introduced a handheld 3DHaptics Navigator controller for car racing games with sensory feedback capabilities: "4D Driving Bar (preliminary name)" While this controller did succeed in creating realistic sensations, the game controller-like grip shape left something to be desired.

This year, after researching a new type of actuator and mechanism, MIRAISENS succeeded in creating these same realistic sensations in a grip-shaped body. M-ORB is the first controller of its kind equipped with these new technologies.

When used with VR/AR, players can truly feel the VR/AR world with their own body:
-The feeling of holding, touching, or lifting an object
-Collisions with dungeon walls
-Floating sensations like jumping
-The resistance of pushing on an hard or soft object
-The sensation of swords clashing or slashing when fighting in an RPG
-The feeling of a rough or bumpy road in a car racing game
MIRAISENS expects to apply this technology not only to gaming, but also to the operation of robotics, medical and automotive.

By utilizing the 3DHaptics technology built into this controller, the new dimension of "sensation" can be incorporated into digital contents, causing a paradigm shift to a new world of digital contents that people have never experienced before.
M-ORB was developed based on '3DHaptics Technology' which is the proprietary technology of MIRAISENS that causes the illusion of physical sensations via vibrations and other similar stimulation (24 pending patents: 16 registered patents worldwide).
*Prototypes of the product will be displayed at GDC.
Please feel free to contact us form below.
Later, we will contact you from the person in charge.